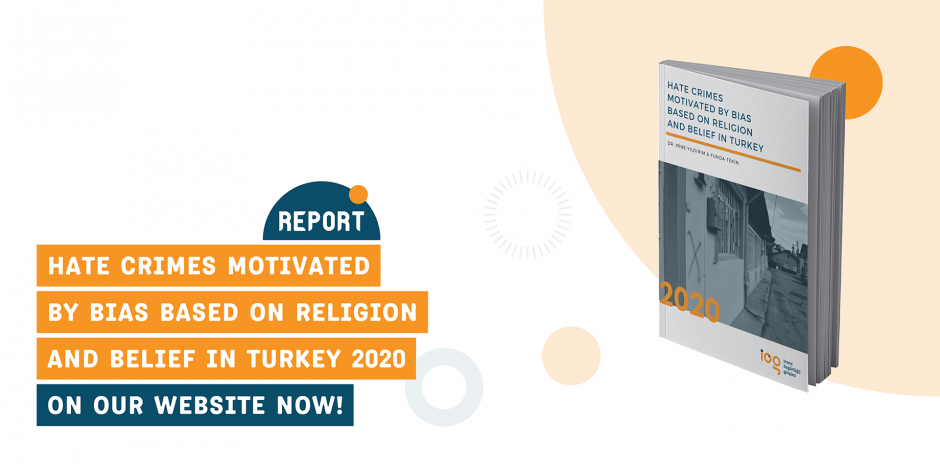 English summary of the "Hate Crimes Motivated by Bias Based on Religion and Belief in Turkey 2020" report, which aims to prevent religion or belief-based hate crimes and impunity for hate crimes, is published.
Authored by the Freedom of Belief Initiative team, Dr. Mine Yıldırım and Funda Tekin, the report aims to increase the visibility of hate crimes motivated by bias towards persons or groups on account of their religion and belief.
The summary report provides an overview on:
data obtained from the monitoring work on hate crimes motivated by bias based on religion or belief in Turkey for 2020,
recommendations for the prevention of hate crimes in Turkey.
In Turkey, hate crimes motivated by bias towards religious or belief communities and their places of worship, associated venues, religious/spiritual leaders, and members continue, and these crimes often go unpunished. Furthermore, the report finds that the legislation is inadequate to address hate crime and hate crimes are insufficiently reported and recorded by public authorities.
For the more comprehensive Turkish version of the report, legislation and relevant judicial decisions regarding hate crimes in Turkey were reviewed. Moreover, the relevant findings and recommendations of international human rights compliance control mechanisms were compiled. Cases included in the report were analyzed with reference to the Organization for Security and Co-operation in Europe's (OSCE) definition of hate crime.
Accordingly, within the scope of the monitoring work, 14 hate crimes committed with religion or belief-based bias were documented in 2020. 8 of these incidents are committed based on bias towards Alevis, 5 against Christians and 1 against those wearing a headscarf. Types of incidents are classified as damage to places of worship or cemeteries, damage to private property, insult/defamation and threats/threatening behaviour.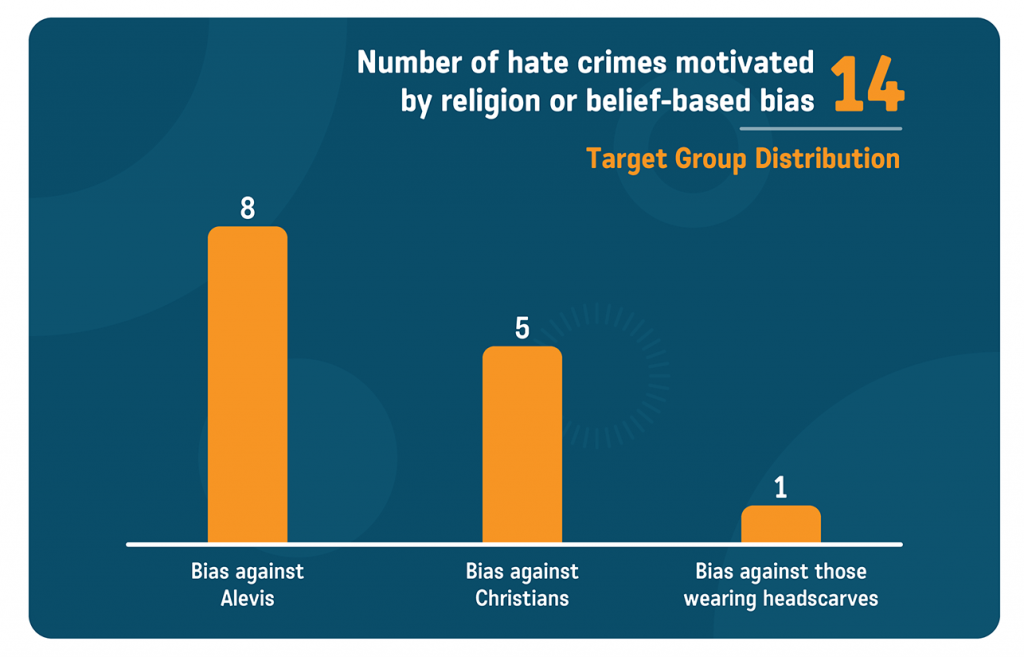 The report includes recommendations for public authorities, civil society, and religious or belief communities. Some recommendations in the report include:
Legislation on hate crimes should be adopted to prevent and combat hate crimes, including those motivated by bias based on religion and belief;
a system should be put in place for the proper registration of hate crimes including bias motivation, effective investigation, prosecution, and enforcement of appropriate penalties.;
multidimensional measures should be taken to meet the needs of the victims;
information sharing and cooperation between law enforcement officers, civil society, and religious or belief communities should be strengthened.
The data in the report were also submitted to the OSCE within the scope of their 2020 report. Looking forward, we aim to expand the monitoring work and to cooperate on advocacy with the contributions of religious or belief communities. In 2020, the Initiative also sent a submission to the OSCE regarding religion or belief-based hate crimes in Turkey in 2019, and these data were used in the "2019 Hate Crimes Report" of the OSCE.
Please click here to read the summary report.[1]
---
 [1] If you would like to contribute to our work on religion or belief-based hate crimes for 2021, you can contact us at inancozgurlugu.info@gmail.com or report the incident from bit.ly/nefret-sucu-bildirim.