This event seeks to explore the legal issues at the core of the intersection of freedom of expression and freedom of religion or belief as well as the implications of international human rights law and Turkey's national law. Members of religious or belief communities, non-believers, legal experts and thinkers come together to present and analyze problems, patterns and ways of moving forward.

The new AK party government, taking power after the 1 November 2015 Parliamentary elections, should be aware of the need for reform and make changes to both the letter and practice of the law in a way that is inclusive, transparent, and places human rights norms at the center. Otherwise, it is not difficult to predict that various religious or belief communities, so negatively affected by the extant restrictions and discrimination, will become ever more vulnerable as they continue to face their struggle to survive.
The Joint Guidelines have significant implications for Turkey, in particular for the protection of the right to freedom of religion or belief in its collective dimension.

Uluslararası insan hakları koruma mekanizmaları ve ulusal mahkeme kararları da Türkiye'nin yasa ve uygulamalarını din veya inanç özgürlüğüne ilişkin insan hakları standartlarıyla uyumlu hale getirmesinin gerekliliğine işaret etmektedir. Yeni hükümeti bu alanda gerçek bir değişim sağlama görevi beklemektedir.

The Norwegian Helsinki Committee (NHC) Freedom of Belief Initiative outlines in this report, covering the period from July 2013 to June 2014, that Turkey needs to take comprehensive steps in order to bring legislation and practice in line with international human rights law.
Surp Giragos Church, the largest Armenian church in Middle East, is among the places in Sur province of Diyarbakir that are expropriated by the decision of the cabinet. With the same decision, Syriac, Chaldean and Protestant churches are also expropriated.

The permanent insistence on more integration mainly addressed to Muslims, in conjunction with a nationalist political rhetoric highlighting "Danishness" and "Christian values", sends a very ambiguous message to Muslims and may cause feelings of alienation and frustration.
In what appears to be an implicit recognition of cemevis as official places of worship, the Supreme Court of Appeals has overruled a lower court's decision that ordered the Cem Foundation, a prominent Alevi civil society group, to pay electricity bills despite an earlier European Court of Human Rights (ECtHR) decision on the issue.
An inmate of the Alevi faith, a secular version of Islam, was permitted to meet with an Alevi religious leader, known as an Alevi Dede, in prison thanks to a ruling which allowed imams to preach in prisons.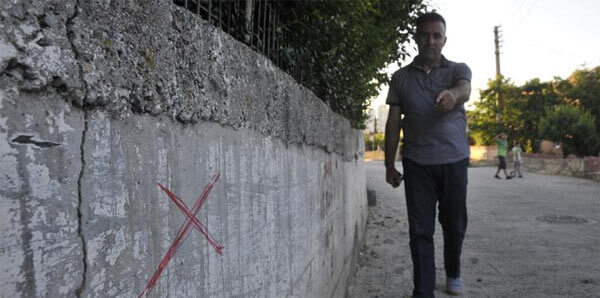 A total of 16 houses on Tavşantepe's Doğuş Street were marked with red paint, according to locals.
The European Court of Human Rights (ECHR) has fined Turkey 57,650 euros for prosecuting and convicting four Jehovah's Witnesses who refused compulsory military service, according to a statement from the Court on June 3. 
The Otto Preminger Institut v. Austria case remains an important case concerning the intersection of the rights to freedom of expression and freedom of religion or belief.
International Standards Pertaining to the Right to Freedom of Religion or Belief

The EU adopted the Guidelines on the Promotion and Protection of Freedom of Religion or Belief on 24 June 2013.